Project T.G.I.F—Turning Grease into Fuel, aims to recycle used cooking oil into biodiesel to help heat needy people's home in Westerly.
The idea was first initiated after reading an article in The Westerly Sun about the WARM shelter's A Dollar A Week campaign to raise funds for heating assistance in Westerly.  At the same time, we knew of the growing problem of global warming and the emissions produced by conventional petroleum based fuels.  We looked for a solution to this problem through recycling cooking oil.
Some restaurants may produce between 100 and 300  gallons of cooking oil per month.  These restaurants then pay a company to dispose of the oil.  Instead, we envisioned a system where companies would donate their oil to be recycled, and some of the oil recycled would be donated to the WARM shelter for heating assistance.
Our project has the goal of raising awareness about the possibility of recycling cooking oil as well as creating a sustainable system to recycle the cooking oil.  We worked with Grease Co. and various biodiesel companies to create a system where we would sign up restaurants to give them used cooking oil, and they would process the oil and then donate a portion to the local charitable agencies, which would distribute the oil to the families on their lists for heating assistance.
We made a presentation to the Town Council in November, 2008 (picture 3) to establish a cooking oil container at the Westerly Transfer Station (pic 2) so that residents as well as restaurants could donate their cooking oil to be recycled.
We met with  Reverend Jean Barry (pic 4), the executive director of the WARM Shelter, to learn more about the situation this winter, as well as what the WARM shelter does for our community.  We were able to find a way in which our work could directly help the WARM Shelter and our community.  In addition, we met with Mr. Ryan Mason of Mason Biodiesel (pic 5) to learn about the biodiesel refining process.  The team analyzed different types of oil for their potential output in biodiesel and learned more about what happens to the biodiesel we recycle.
In December, 2008, we won a Disney Minnie Grant and a Youth Venture Seed Grant to fund and support our project.  On March 9th, 2009, the team presented both the Bradford Johnnycake Center and the Westerly Area Rest Meals (WARM Center)  with 1,000 gallons of Bioheat® each to distribute to recipients of emergency heating assistance (pic 1).
The WIN Team is expanding Project T.G.I.F by reaching out to more restaurants in neighboring towns, such as Narragansett, Stonington, and Mystic. We are reaching these other towns by partnering with MASH (Mystic Area Shelter and Hospitality). We have also gained the support of the Narragansett Town Council.
In order to see if our project was both efficient and low-cost, we designed our own experiment (pic 7) to make biodiesel. From our results, making biodiesel out of waste cooking oil is the most cost-effective.
In December 2009, the  team presented more checks to the WARM Shelter (pic 8) and also Mystic Area and Hospitality (MASH) (pic 9) .
In January 2010, Clinton Biodiesel Initiatives from Clinton, CT (pic 10) visited us to discuss how to implement Project TGIF in their city.
We delivered another check of 1,000 gallons of  Bioheat to the Bradford Johnnycake Center in February 2010.
On February 18, 2010, we presented Project T.G.I.F. to Mayor Scott Avedisian of Warwick, RI  as well as Ms. Sue Stenhouse; the director of community relations for the State of RI, who were interested in Project TGIF (pic 12).  They are now helping us implement our project in Warwick and other cities in Rhode Island by signing up additional restaurants , as well as raising awareness through the school systems.         
Due to the historic flood in March, 2010, many of the local businesses were underwater and desperately needed help.  In May, 2010, the junior WIN team donated our award money of $3,600 to the Jump Start Small Businesses Recovery Fund initiated by the Greater Westerly—Pawcatuck Area Chamber of Commerce  in exchange for 12 newly signed restaurants from Chamber members to project T.G.I.F.   The town of Westerly has matched our donations to the funding (pic 13).
WIN has been working with MASH (Mystic Area Shelter & Hospitality) on project T.G.I.F. since 2009.  In July, 2010, MASH helped lobby the town of Stonington to participate in project T.G.I.F.  Edward Haberek Jr. (First Selectman of Stonington, CT), Ms. Lisa Tepper Bates (CEO of MASH), Ms. Gracelyn Guyol (Founder / President of CUSH—Clean Up Stonington Harbors) and WIN announced that the installment of the public waste cooking oil recycling station at the Stonington transfer station is now located at 151 Greenhaven Road, Pawcatuck, CT (pic 14).
On October 6th, 2010, we donated another 2,500 gallons of Bioheat® to WARM, MASH and the Bradford Johnnycake Center at Westerly radio station WBLQ.  Both of our directors were on air for the interview. To date, project TGIF has donated a total of 21,000 gallons of Bioheat for emergency heating assistance, a market value of more than $81,000. This has helped heat the homes of 210 families.
The junior WIN team did more presentations to the Chariho Rotary Club (pic 17)  as well as  the Welcome House in Wakefield in order to expand the project.  The team was also invited to be showcased at A Better World by Design Conference EXPO at the Brown University (pic 18).  We ; 5 middle schools students, were among other college student  exhibiters who came from illustrious colleges such as Brown, MIT and Northwest universities.
Action Plans
We  met with Ms. Janine L. Burke (Executive Director of Warwick Sewer Authority) and Ms. Betty Anne Rossi (Pretreatment Coordinator of WSA) to plan the launch of  T.G.I.F. in Warwick.
On September 14, 2010, we made a presentation with the board members of the Warwick Sewer Authority (pic 16) and set a time table to start a pilot program in one of the elementary schools in Warwick to recycle waste cooking oil.
On November 5th, 2010, we were invited to make a pitch at the Social Enterprise RI Summit (SERI) at Bryant University (pic 19).  We also set up a display booth at the Buy With Heart Marketplace during the event.
TGIF in Warwick officially kicked off at the Sherman Elementary School in Warwick on November 15th, 2010.   Mayor Scott  Avedisian of Warwick and city officials as well as Ms. Sue Stenhouse; the director of community relations for the State of RI, all came to the ceremony.  Mr. Avedisian poured the first bottle of waste vegetable oil along with two Sherman Elementary students into the recycling dumpster we helped set up at the Sherman School (pic 20).  NBC Channel 10 News in RI, the Warwick Beacon and several other media sources came to report the kick off event.   Furthermore, we helped set up additional waste cooking oil recycling bins at 4 fire stations in Warwick.  More businesses will be joining us in the future.
Our team held a meeting with Sen. Dennis Algiere, Rep. Brian Kennedy, Rep. Samuel Azzinaro, and Rep. Donna Walsh to propose a waste cooking oil recycling bill (pic 21)  ,which will mandate that all businesses that sell cooking oil must provide a receptacle for residents to recycle waste cooking oil.  Here is the  bill H5203 & S0185  , which is currently in both the Senate and House of Representatives. The hearing at the State House was scheduled for March 31st, 2011.
In February 2o11, the team presented to youth in Providence, RI during the launch of a weekly program for high school social entrepreneurs at a teen center called the Hub. The team was invited to speak at the event, which was sponsored by Youth Venture (pic 22). 
On March 16, 2011, the team made a presentation to the  Westerly School Committee members and asked them to use a B20 blend (20% biodiesel and 80% petroleum diesel) in all Westerly school buses.  Here is  the Power Point presentation.   We also donated 2,500 gallons of Bioheat® to the WARM Shelter, the MASH Shelter, and the Bradford Jonnycake Center after the presentation (pic 23).   So far, we have travelled to and signed up 105 restaurants (pic 6) to participate in our program.  30,000 gallons of biodiesel can be produced from the waste cooking oil we helped recycle.  More than $35,000 has been given to the charitable organizations in the form of Bioheat®, totaling over 92 households spared from heatless winters because of our efforts.  We plan to extend our program to Groton /New London, Connecticut  and Providence, RI to sign up more restaurants and double the results we have already achieved.  
On March 31st, 2011, the team went to the Rhode Island State House to testify Bill S0185 and H5203 (pic 24).  Our presentation went well and we received support from many members at the Senate and House's Environmental Committee as well as the RI Resource Recovery Corp.  The bill also has one opponent from a grease processing company.  Here is a link to the Providence Journal , who reported the story.
In addition to restaurants, we are also targeting country fairs and festivals for their cooking oil.  In May 2011, we set up recycling bins at the Misquamicut Spring Festival (pic 25).  We will also place bins at the Charlestown Seafood Festival in August, 2011.
On May 25th, 2011, the team visited Rhode Island Analytical in Warwick, RI (pic 26) to see how FOG samples from sewers are tested. We are working with the Warwick Sewer Authority to conduct a study to witness the effect that raising awareness of WCO recycling can have on the amount of grease poured down the drain in residential areas in Warwick, RI.
On May 25th, 2011, the team set up a booth and made a presentation at the Chamber of  Commerce Business After Hours event (pic 27) at the Hampton Inn in Warwick to raise awareness of TGIF and lobby restaurant owners.
On June 30th, 2011, the team visited the State House and witnessed the Used Cooking Oil Recycling Act being passed. The bill will go into effect on January 1, 2012, and mandates that all businesses must recycle their used cooking oil.
In July, 2011, the team met with COX Communications to discuss plans on creating a PSA (public service announcement) for increasing awareness of WCO recycling (pic 28).
In July, 2011, the team met with Stop & Shop regional manager to discuss setting up potential WCO receptacles at all 13 regional Stop & Shop stores for consumers, which is still under consideration (pic 29).
In September, 2011, the team made a presentation at the South Kingstown Chamber of Commerce Business After Hours event at the Charlie O's restaurant in Narragansett, RI (pic 30) to raise awareness of the program and encourage residents to recycle their grease, as well as to lobby restaurant owners. 
In October, the team gave a presentation to the South Kingston Town Council to ask them to install a residential grease recycling receptacle at their transfer station.
On October 22, 2011 , we participated in Make A Difference Day, the largest national day of helping others, by hosting an event at the Westerly Super Stop and Shop.  With numerous activities like face painting, balloon giveaways, cookie decorating and more, we raise d $1,242 for charity.  At the closing, we donated 5,200 gallons of BioHeat (a value of $18,000) to our charity partners (pic 31).
In November, 2011, we visited URI to make a presentation to students in a marketing/business class (pic 32).
In December, 2011, we visited the Met School in Providence to give a presentation during the Young Social Innovators Pitch Party, an event sponsored by SVPRI (pic 33).
We are currently working on using biodiesel in school buses.  In January, 2012 we worked with other students to find the freezing temperatures of different types of fuel, including 100% diesel, 100% biodiesel, B10 (10% biodiesel and 90% petro-diesel) and B20 (20% biodiesel and 80% petro-diesel).  We conducted this experiment because we needed to find out if biodiesel is a reliable fuel suitable for use in cold temperatures (pic 34).
In February, 2012, we conducted more tests regarding biodiesel use in school buses, including an opacity test to measure pollutants (pic 35) from the exhaust and a flash point test at the UConn Center for Environmental Sciences and Engineering (pic 36).  We also gave a presentation to students at the Westerly Middle School to raise awareness of our program and motivate them to take action.
                               <![if !word & !ppt & !excel & !vml]>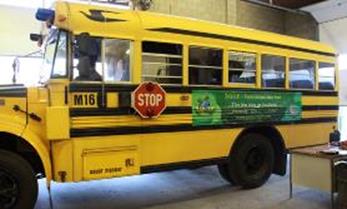 <![endif]>
In March 2012, we gave a presentation at the SEEED Summit (Social Enterprise Ecosystem and Economic Development) at Brown University to raise awareness of our program (pic 37). 
In March, 2012, we  presented our research regarding biodiesel use in school buses to the Westerly School Committee.  The committee agreed to begin using a biodiesel blend (B5) in our district's school buses (pic 38). 
In April, 2012, we held a booth at the Statewide Business After Hours Event in Cranston, RI to raise awareness and gain support from Chambers of Commerce (pic 39). 
In April, 2012, TGIF team teamed up with Newport Biodiesel and sent out over 500 postcards to access Newport Biodiesel's existing participating restaurants  that were not in the TGIF program in an effort to gain support from a broader base.
In August, 2012, the group presented to marketers and designers at Hasbro Headquarters in Pawtuxet, RI, as a part of an "Inspiring Kids" segment (pic 40). 
In October 2012, the team kicked off the TGIF program in Providence, RI at the Veazie Street Elementary School with the help of Mayor Taveras (pic 41).  At the conclusion of the event, the team donated 6,300 gallons of BioHeat (approx. $25,000) to five local charities, enabling 63 additional families to stay warm in the 2012-13 winter (pic 42).
In  November 2012, we distributed an additional 1,000 kitchen calendars and 1,000 flyers in South Kingstown, RI (pic 43).
In December 2012, we made presentations to the Rotary Club of Westerly, RI as well as the Rotary Club of Ledyard, CT (pic 44).
In January 2013, we made a presentation to students at the Williams School in New London, CT  (pic 45).
In January, 2013, we donated $11,000 to the Bring Back the Beach fund to help rebuild Misquamicut Beach after Hurricane Sandy following our You Eat, We Donate campaign, in which we pledged to donate $20 for every receipt we received from customers at TGIF participating restaurants (pic 46).
We have collected over 800 emails from the "You Eat, We Donate" campaign; we will use them to send promotional emails to help support the TGIF participating restaurants.
In August, 2013 we met with Bishop Tobin to ask for a letter of support from the Bishop so TGIF can start to reach out to Catholic schools in RI.
In August, 2013 we met with Mayor Flanagan of Fall River, MA to discuss expanding the program in Fall River (pic 47).  We also met with the Public Works Department of New London, CT and have placed a receptacle at the New London Transfer Station.  Both of the cities are now on board with TGIF.
On October 30, 2013  we were invited to make a presentation at EPA's regional conference (pic 48)  of sewer pre-treatment.  The presentation was well received and we hope we can expand TGIF to Northern New England states in the next three years.
On November 4,2013 we made a presentation to the New London City Council (pic 49)  to gain their support in the city.  The Williams School in New London also joined us to help expand TGIF in New London, CT.
In December 2013 we distributed 1,500 kitchen calendars and flyers (including 200 in Spanish) in New London, CT to promote grease recycling.
On December 12, 2013 we donated 8,000 gallons of BioHeat® to local charities (WARM Center, Bradford Jonnycake Center, MASH, Keep the Heat On, Welcome House) at the Mayor's office in New London, CT  (pic 50).  Thank you to Mayor Finizio, who helped us out with the event.  We have now set up a receptacle at the New London Transfer Station and are expanding to New London with the help of the Williams School Service Committee as well as the Drop-In Community Learning and Resource Center.
SCRRRA (Southeastern Connecticut Regional Resource Recovery Authority)  joined TGIF in December, 2013 and all its transfer stations at the 12 towns of SE CT were  installed  waste cooking oil recycling receptacles for the residents to recycle home cooking grease.  Please check their locations to recycle your grease!
<![if !word & !ppt & !excel & !vml]>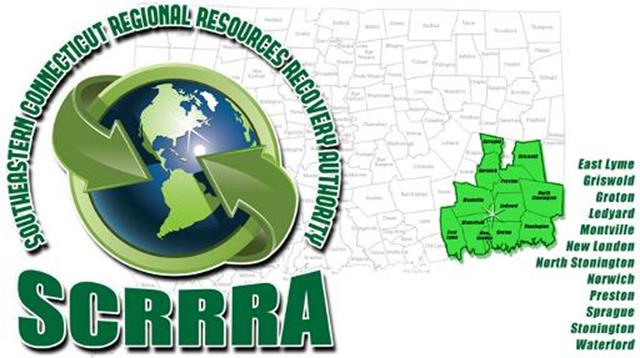 <![endif]>
In April, 2014 we presented at the Business Before Hours event at the Mystic Seaport.  We also made a presentation to the New London Board of Education at the Science and Technology School in New London (pic 51).
In June, 2014 we volunteered at the Electric Eve 5K run at Misquamicut State Beach in Westerly (pic 52).  Electric Eve is a 5k non-competitive run where families, artists and revelers unite with light.  All participants were dressed with neon-colored outfits, many of which were decorated with flashing LED lights.
In July, 2014 TGIF collected waste cooking oil from the 2014 Sailfest in New London, CT (pic 53).  Sailfest is Southeastern Connecticut's premier summertime event, attracting over 300,000 people over the three-day festival .  TGIF was the official waste cooking oil collector at the event.
On November 24th, 2014, the Junior WIN team donated 11,000 gallons of BioHeat and a $3,000 check to 8 charities during the annual TGIF donation event (pic 54).   The event took place at Bishop Hendricken School in Warwick.   Representatives from the WARM Center of Westerly, the Jonnycake Center of Westerly, Mystic Area Shelter & Hospitality, the Thames Valley Council for Community Action of New London, the Pawcatuck Neighborhood Center of Stonington, the Welcome House of Peace Dale, Warwick Human Services of Warwick and Keep The Heat On of Providence all attended to the event.   Bishop Thomas Tobin of Providence, RI was the guest of honor of the event.
TGIF's 2015-16 winter BioHeat donation took place at the Greater Mystic Chamber of Commerce's annual member dinner at the Mystic Marriott Hotel on December 4th, 2015 (pic 55).  8,000 gallons of BioHeat were donated to 5 charities to help heat the homes of an additional 80 families this winter.  Thank you to the president of Greater  Mystic Chamber of Commerce Ms. Trisha Walsh!
TGIF has continued to run while  all of our  teammates are at college!  During winter break, the team visited four charities and donated 3,500 gallons of BioHeat to support emergency heating for the 2016-17 winter (pic 56).
With the record low temperatures in New England in the 2018 winter, the TGIF team donated 6,000 gallons of BioHeat to five charities during their winter break (pic 57).  
If you currently own a restaurant in the state of Connecticut, Massachusetts, or Rhode Island and you would like to be part of the T.G.I.F. program, please download this agreement, fill it out, then mail or email us.  We are also looking for corporation partners, please contact us if you are interested.
<![if !word & !ppt & !excel & !vml]>

<![endif]>
<![if !word & !ppt & !excel & !vml]>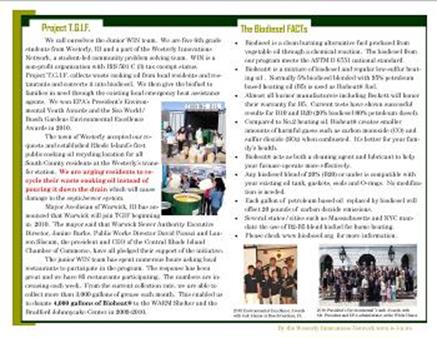 <![endif]>
<![if !word & !ppt & !excel & !vml]>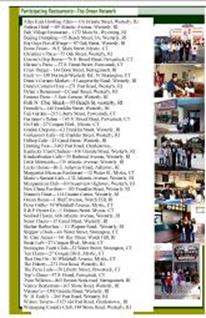 <![endif]><![if !word & !ppt & !excel & !vml]>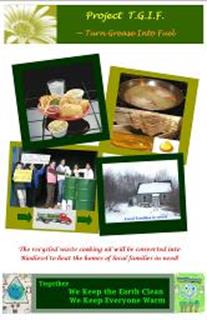 <![endif]>

<![if !vml]>