Please see WIN-Taiwan's blog for  more about the project! 
Inspired by the Junior WIN team and project TGIF, 17 year old Erica Chu and 15 year old Amber Lee of FuHsing High School  in Taipei, Taiwan contacted Westerly Innovations Network in order to establish a student-led affiliate program in Taiwan to encourage their peers to volunteer and protect the environment.  Both of them launched project Green Jacket in January, 2013.
Project Green Jacket collects lightly used high quality uniforms from their school and sends the jackets out to rural areas in Asia for students who cannot afford winter clothes.   Reusing is the most effective way to improve the environment, and we are so honored that these students have been inspired by us and have taken this initiative.
2013
On April 17th, 2013, Amber and Erica of our affiliate Taiwan team made a presentation about project Green Jacket to all Grade 4, 5 and 6 students of FuHsing Primary in their morning assembly in order to encourage students to donate their school uniform jackets for the upcoming season uniform change.  Here is the flyer as well as the presentation.
<![if !word & !ppt & !excel & !vml]>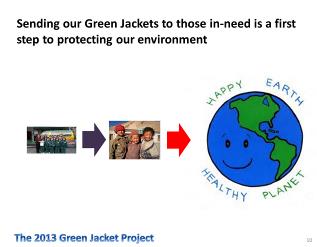 <![endif]>
Amber and Erica collected 65 children-sized jackets and clothing from the students. They carefully sorted and packaged them individually with their friends.  The jackets will be shipped to an elementary school in QingHai, China. (中国青海省玉树县二完全小学)  Amber plans to go to China and help hand-distribute the jackets in July, 2013.  She will work with the teachers and students in order to pinpoint any additional school supplies.
In July, 2013, Amber brought the jackets with her and travelled to the most remote Tibetan Regions in QingHai and SiChuan in order to deliver the jackets and establish personal connections with the Surmang Foundation.  Amber also visited XieQing Orphange in Western SiChuan.  She met with the Foundation and discussed future collaboration plans with the directors of the organization.  Here is the summary of Amber's Journey:
<![if !word & !ppt & !excel & !vml]>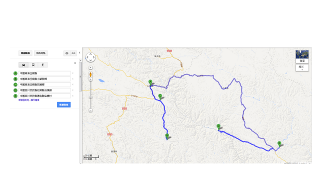 <![endif]>
2014
Following the success of W-I-N Taiwan's 2013 Green Jacket Project, Amber and her friends of teenage volunteers are gearing up in 2014 for their on-going effort to help the needy with environmental friendly recycled school uniforms from Taipei's FuHsing Private School.  The team kicked off their 2014 Green Jacket Project within Fuhsing High School with a presentation to 5th and 6th graders on April 25, 2014. This year they plan to send the slightly used green jacket uniforms to another remote region in China – the Minority Dong and Miao Tribes Autonomous States in Guizhou Province. They are teaming up with an active NGO – Beijing Puman (piggy bank) Plan – to oversee the Green Jackets Project and help distribute them to the students in the one of the most remote areas of China .
PuMan Plan is a China home-grown charity organization created by Ms. Xu Ke of Beijing and her friends/circle of volunteers who have devoted the last ten years to improve the school environments in one of the poorest and most backward country sides in China - the Miao & Tung Tribes Minority Communities in South Eastern Guizhiu Province.
<![if !word & !ppt & !excel & !vml]>
<![endif]>
2015
W-I-N Taiwan's 2015 Green Jacket Project got off to a smooth start as early as in the summer of 2014 - while the team was busy preparing shipments of recycled FuHsing Green Jackets to GuiZhou (please refer to our W-I-N Taiwan (4) posting). The team got into contact with a group of HangZhou-based volunteers who, since 2003, have been sponsoring two small primary schools in remote YunNan Province - the Forty Small Flowers School (40朵花花小學校) and the JuXiang School (菊香小學校).
<![if !word & !ppt & !excel & !vml]>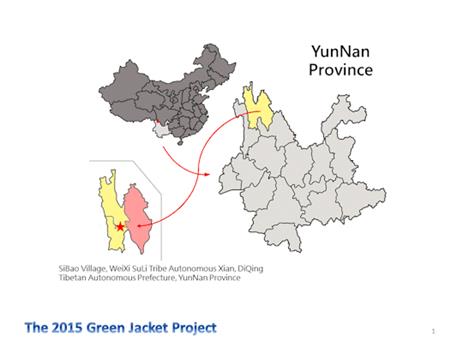 <![endif]>

The team prepared a formal proposal for FuHsing School's Principal Chang - who is new to FuHsing since Spring 2015 - and briefed her on the work W-I-N Taiwan had done with support from the school.

The W-I-N Taiwan team made a trip to 40 Flower School in early July 2015 to personally deliver the collected FuHsing Green jackets and gain first-hand experience of the children's conditions there. The team hosted games with the students and talked to the teachers as well as the school officials to understand the challenges they have.  

We travelled to the most rural area in the southwest corner of China.  The whole trip was amazing and the team learned so much during this service-learning journey!  

=========================================

The Service Committee at the Williams School started a TGIF affiliate program in New London, CT.  They not only raise awareness for grease recycling at their school, but also lobby restaurants in the NL area to join TGIF.   The group made presentations with the junior WIN team to the New London City Council, the NL Mayor, and the NL board of Education in February, 2014.  They donated 1,000 gallons of BioHeat to TVCCA (Thames Valley Council for Community Action) in order to heat the homes of 10 financially stressed families.  We applaud them for their efforts!

<![if !vml]>